Wel come to ladakh eco tour and trek
What to say about the extravagant and incomparable beauty of Ladakh. Once you land here, it amazes you, overwhelms you, and engages you like never before. You might have seen many heart winning places on this planet; Ladakh is however going to be the best place you have ever seen. If price is the only barrier that makes you re-think over your trip plan, simply get Ladakh travel packages through Ladakh travel and tours.
Whether we talk about huge mountains, entirely snow covered areas, culture or Buddha followers; you are just going to have a fantastic experience with everything in a single Ladakh holiday package.
Ladakh in itself is a wonder, just search for the best Leh Ladakh tour packages, and choose the one that best suits you. Once you are there, we highly recommend you to hire a taxi from Leh to Pangong Lake which is approx 150 kilometres above from the city. Well, distances hardly matter when the destiny is heaven. Yes, the lake is a treasure in the lap of Ladakh and it will be awesome to have a night stay out there. Located very close to China border, it provides you a new experience. You may also choose to see China border which is located at app. 50 kilometres from your stay. An interesting thing is that the Pangong Lake connects the two countries: India and China. The adventure is yet to come, which is waiting for the night to come. Due to heavy winds, people arrange tents for tourists for stay and provide you a home-like experience in these tents. Lunch and dinner are available at local restaurants which in Indian language are called 'dhabas'. It's good if the Leh Ladakh tourism plan you have chosen includes meals too.
You will also find a chain of monasteries and Buddha temples in the whole region of Ladakh which are the best way to feel peace. Various Ladakh packages also include these temples and monasteries. Know that there are various Leh Ladakh tourism centres; you need to search them, compare the prices and enjoy trekking on the hills of Ladakh.
Best time to visit ladakh : May to November is the best time to visit leh ladakh
Regions of Ladakh
Ladakh is divided in four regions: (1) Nubra valley (2) Zanskar (3) Rupshu (4) Ancient Aryan people, Drok-pa in the Dha-hanu
Things to do in Ladakh
Winter Activities of Ladakh : Cultural tour monastery festival and village tour, frozen river trek to Zanskar.
Summer Activities of Ladakh : Adventure trek, long trek, short and easy trek, monastery and village tours, agricultural tours and Sturdy, horticultural sturdy, Nomad life Sturdy, wildlife sturdy, Mountaineering, unnamed peak study. Ladakh is the remotest region of Indian,Himalaya. It is a high altitude desert area north of Himalayas on the Tibetan plateau. The lowest elevation in all of Ladakh is above 2500m.The Karakoram and Kailash ranges border of Ladakh in the north and the east, the great Himalayan range isolates it from the south. The majority of the countryside is covered by the Ladakh and Zanskar mountain ranges, each crowned with scores of 6,100m to 7,800m peaks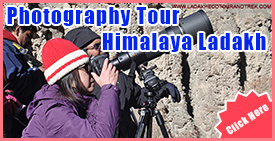 Testimonials
Dear Angchuk The Great Global Expedition We had very nice trip with you last summer, in Ladakh Nomad trek for three weeks. It was wonderful .. Sylvie GuayFrom Québec - Canada
Dear Angchuk, We can certainly provide you with a recommendation: We asked Angchuk to organize the crossing of Zanskar, the trekking from .. Caroline et Cyril From Switzerland